cardetailed
cardetailed
Specifications
Vehicle construction: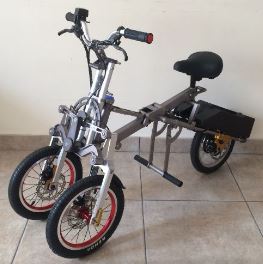 Using the first two rounds, after the single-wheel design, the first two rounds for the steering wheel, and can tilt the side of the body swing;
The rear wheel is a driving wheel, and the forward of the vehicle is driven by the electric motor mounted on the rear wheel;
The body is a folding frame that carries the rear wheels between the front wheels.

Core Technology: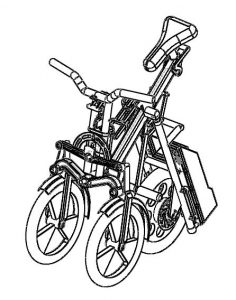 A body can be tilted with the side of the first two-wheel steering system, with a rear wheel can be brought forward to the first two between the body folding system combination, the body part can be fully received side by side three wheels upper space.
The system combination:
When riding, like a common bike flexibility;
Storage, covers an area of only three wheels side by side after the space;
Carry, you can drag the line, you can pull the line;
Folding, start the process, ease, not rush.
Why choose a three-wheel design?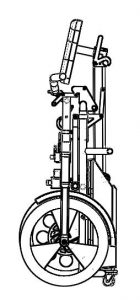 The system combination has been patented
1. Three rounds can be finished shape layout, folding, side by side between the two rounds of space just to insert a third round of storage;
2. Folded, the former look after the look, left and right symmetry, even if the deposit at home, but also feel visually messy;
3. Three points into one side, tricycle in the folding / unfolding process, three wheels can always support the vehicle smoothly, so the operation can be easily completed.
Why choose the first two rounds?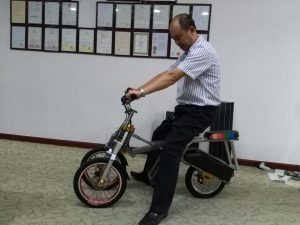 1. When riding, people sitting in the car, the center of gravity in the rear wheel, with the rear wheel drive can be better to prevent wheel drive slip;
2. If the traditional design of the latter two, but also to maintain rear-wheel drive, no doubt the weight of the car and the car's drive system to bring complex. Especially in the need to set aside the space between the two wheels, the two wheels can not be connected directly to the drive.
Vehicle configuration: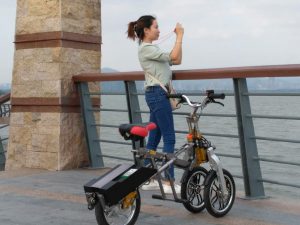 High standard with five features:
1.90% of the structural parts using high-grade aviation aluminum, the surface of the anode coloring oxidation, beautiful and durable;
2. High-precision CNC machining parts size precision, to ensure easy and smooth folding;
3. Full hydraulic disc brake system, safe and reliable;
4. Original optional dual power supply configuration, use at ease;
5. Microcomputer intelligent cruise, long-distance riding relaxed and happy.
?
Power configuration:
Standard: 14-inch drive wheel, 48v, 250w aluminum alloy wheel, 9.6A power battery (electric vehicle special power battery),
Full-power state, flat road & gt; 40 km. (Due to personal weight and road conditions are about different).
Optional: Motor – 250 w, 300 w, 350 w;
Wheel – spoke wheel (-1.0kg), aluminum alloy wheel.
Note: spoke wheel, light weight, strength is not one round high, suitable for light use;
One wheel, high strength, weight than the spoke wheel + 1kg.
model
标配版:JX002-A14
标配版:JX002-A16
标配版:JX002-AS16
(半自动折叠座椅):JX002-B16
单边轮:JX003-A14
单边轮双电源(全自动折叠座椅):JX003-RS14
Expand the dimensions(CM)
135*51*87
135*51*89.6
135*51*89.6
135*51*89.6
135*51*87
135*51*89.6
Folding size(CM)
43*51*98
43*51*100.5
Vehicle weight(KG)
23.5
24
27
27
24.5
26.5
Front wheel parameters
14*1.75双层辐条轮
16*1.75辐条轮
14*1.75整体单边轮
Rear wheel parameters
14*2.125整体轮
Motor parameters
250W
Battery parameters
锂电48V ?9.6AH
锂电48V ?9.6AH
锂电48V ?19.2AH
锂电48V ?9.6AH
锂电48V ?7.2AH
锂电48V ?14.4AH
Top speed
30KM,限速20KM
30KM,限速20KM
30KM,限速20KM
30KM,限速20KM
30KM,限速20KM
30KM,限速20KM
recharge mileage
35——40KM
35——40KM
70——80KM
35——40KM
30——35KM
60——70KM
Options
headlight
Code table
Storage bag
Mobile phone bracket
taillight
Children pedal
Child seats
Dual power supply
Turning lights
Mechanical bells
USB interface
Personalized modified pieces